When reading about the flavor of coffee, the spectrum can be very wide: from chocolate to caramel, peach and nuts or something more exotic like pineapple and mango. The art of coffee tasting is all about practice.
Aromas are distinctive characteristics different coffee varieties develop. Detecting them is indeed not always easy but can be trained with lots of patience and some guidance. In fact, coffee contains hundreds of organic compounds which during roasting and extraction are released from the beans and transformed into the most diverse aromas, tastes and aftertastes.
Find out how with one of the most used techniques used worldwide: the Brazilian coffee cupping method!
BRAZILIAN COFFEE CUPPING
This technique is used by farmers, importers, roasters for the analytical tasting of coffee. The so called brazilian cupping method uses five different cups for each coffee batch or variety that is used. With this method we can detect the aromas and taste profiles and, very importantly, it's a way to detect any defects the batch might have. Five cups are used because some ground beans could be defected in one "area" (reflected in 1 or more of the 5 cups) of the batch, but not in all of them.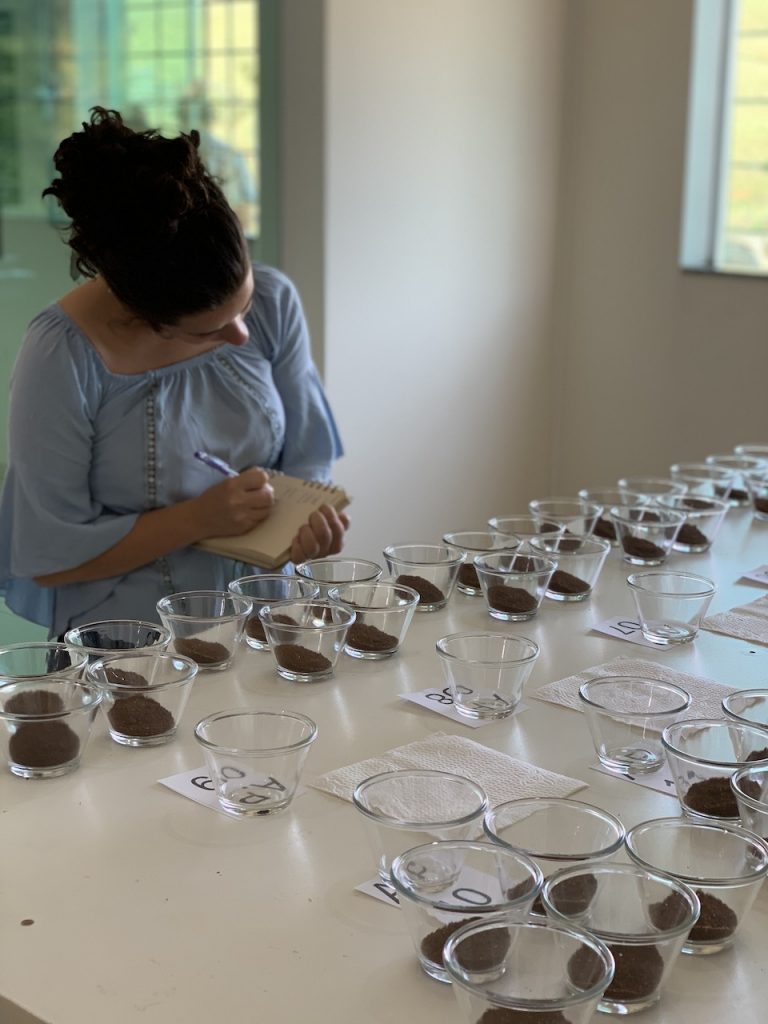 This method is great to taste coffee and can easily be done at home as well. You only need a water boiler, a cupping spoon and cup (something like the ones you see in the picture above are fine, but you can also just simply use mugs or a glass).
HOW TO PREPARE YOUR OWN BRAZILIAN COFFEE CUPPING
Simply explained, first you should fresh and instant grind the coffee. Then smell its aromas and write them down. Writing down during the entire tasting process is very important because, believe us, you will otherwise forget! Then boil the water and pour it over the ground coffee, leaving it to rest for 4 minutes. You can then "break" the crust on the cup with the cupping spoon, while smelling the aromas by slightly moving the coffee in the cup with a forward / backward movement.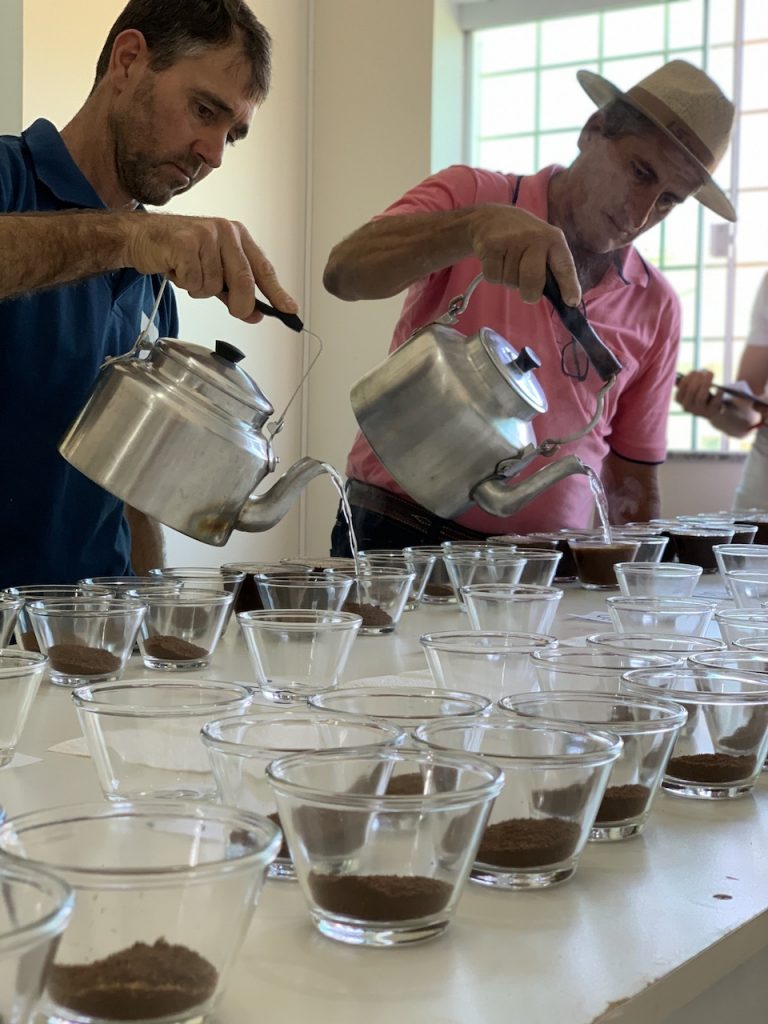 After 10 minutes you can taste the coffee which should have reached the perfect temperature. If too hot or too cold, the aromas will be more difficult to detect. After 30 minutes, the coffee cupping should be over.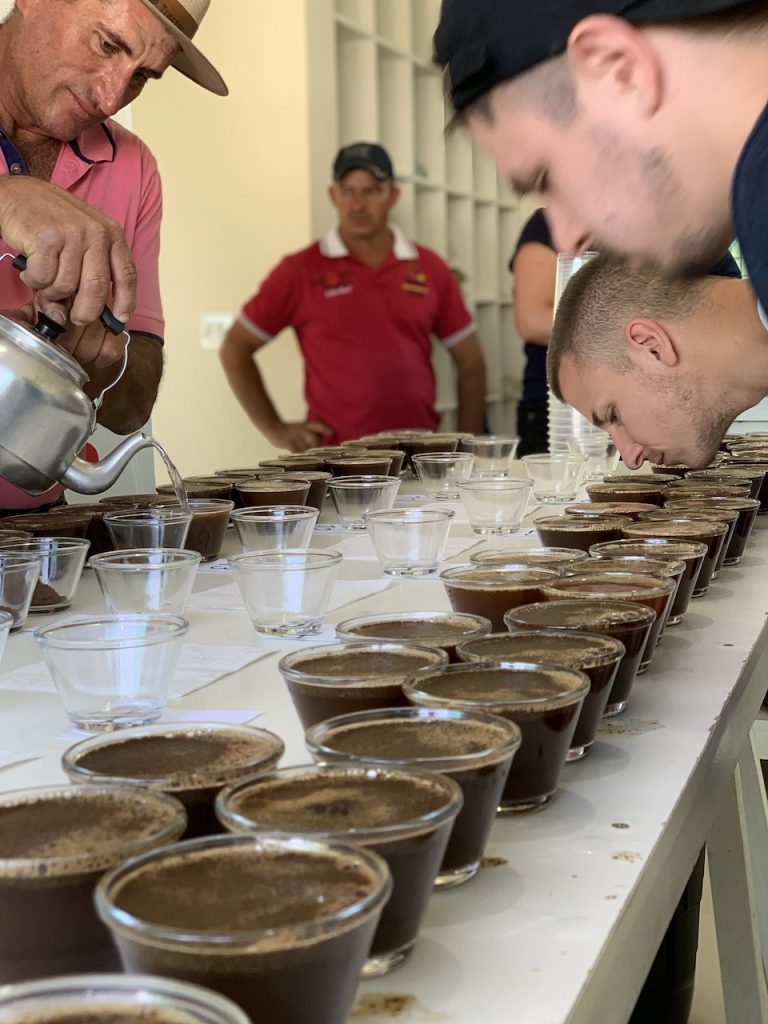 The cup is then usually tasted with a cupping spoon and a spitting cup, pretty much the same as you (should) do with wine tastings (otherwise the intake of caffeine would be very high). Use your tongue to identify if the taste is stronger in the middle / back (bitter), sides (sour), tip of the tongue (sweet & salty) or center (umami).
You can use the image here below to detect which areas of your tongue correspond to which taste.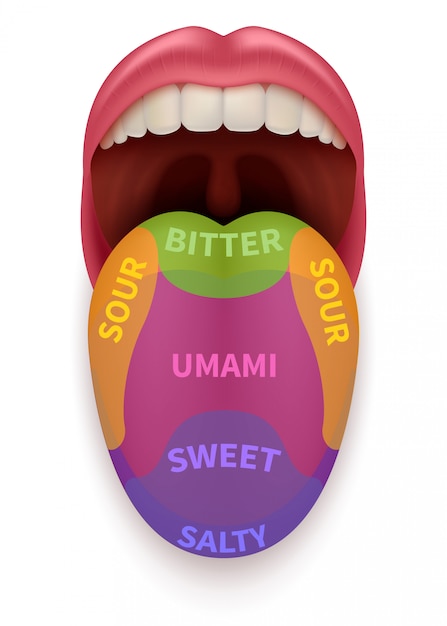 HOW TO IDENTIFY TASTE USING THE TASTE WHEEL
A very helpful tool to identify the many different tastes and aromas that coffee can have is to use the famous taste wheel. First invented in 1995 the SCAA (Specialty Coffee Association of America; today SCA, Specialty Coffee Association) to identify the many different flavors of coffee, it was updated in 2009 in association with the World Coffee Research organization to dig deeper in the spectrum of flavors.
HOW DOES THE TASTE WHEEL WORK?
The best way to use and test this tool is to freshly brew a cup of coffee with a good extraction (any extraction method you prefer is fine, as long as it's done correctly, with the right parameters and the machinery and tools are clean!)
You can start at the center of the wheel and think about the broad flavors you are tasting. Are they more floral and sweet? Or rather nutty / earthy ? Starting from a broader perspective then helps you to narrow down as you proceed, even if you're not very confident with the different flavors yet.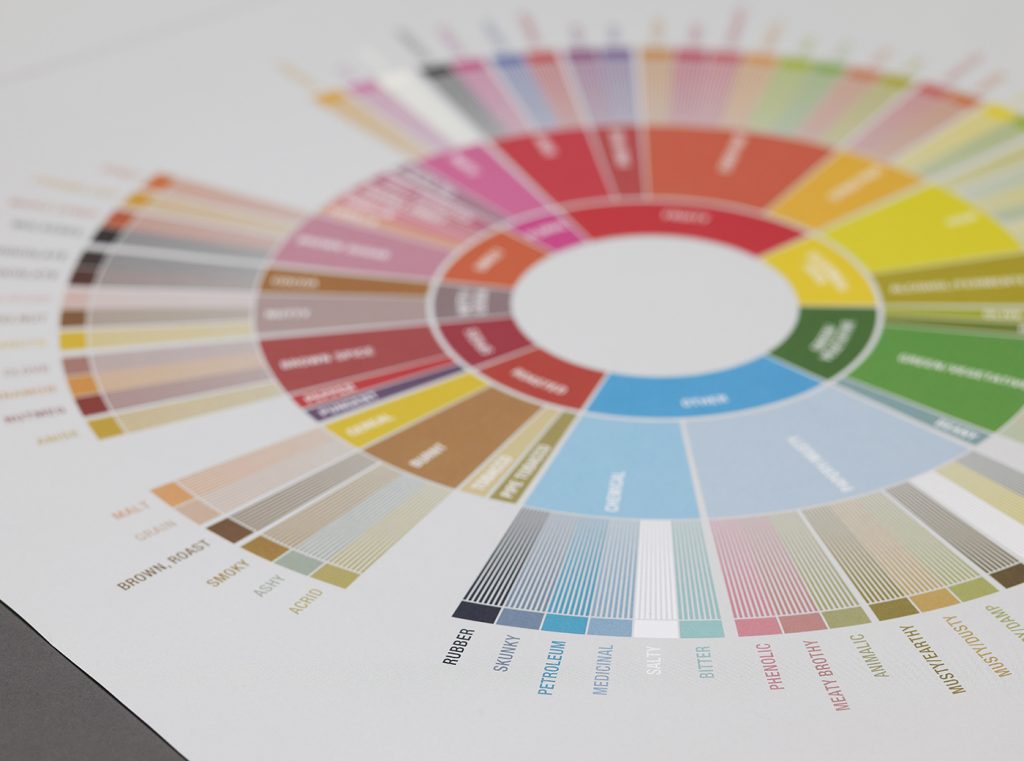 SENSORY LEXICON
The World Coffee Research institute together with the Specialty Coffee Association has recently developed the new Sensory Lexicon which includes 110 different flavors, aromas, and textures attributes for coffee. This is a great guideline for those of you who want to go into deeper detail of coffee tasting.
TAKE A CLASS!
One of the main suggestions we like to give is to attend classes with expert trainers who will help and guide you through a coffee tasting through the help of sensory tools such as flavor kits. You will learn how to identify defects in your coffee, determine aromas and in the more advanced levels, also be able to detect how the coffee you are tasting was processed and roasted.
Discover our tasting courses at Espresso Academy both online and offline!