The Mokaflor rainbow is made of the classic espresso blends of the Italian tradition.
Each of our blends has its own character and identity. Don't know which one to choose? Here are some nice and short videos that will help you find the coffee that best suits your taste and your needs!
The GOLD blend
Let's start today with one of our best sellers: the Gold (ORO) blend. The combination of 80% Arabica and 20% Robusta, give us the perfect balance between aroma, body and sweetness.
"La Oro" is often used for milk-based preparations, especially for cappuccino, but also pure in espresso, where an excellent creaminess and finesse can be found.
Origins
Four coffee varieties where selected for this blend, three Arabicas (Brazil, Ethiopia and Honduras) and one Robusta (India). Of these coffees, two are processed by natural methods (Brazil and Ethiopia) and two by the washed method (Honduras and India).
To get to the choice of these coffees and their combination in the blend, a long research was carried out to determine the perfect balance of their characteristics in the cup.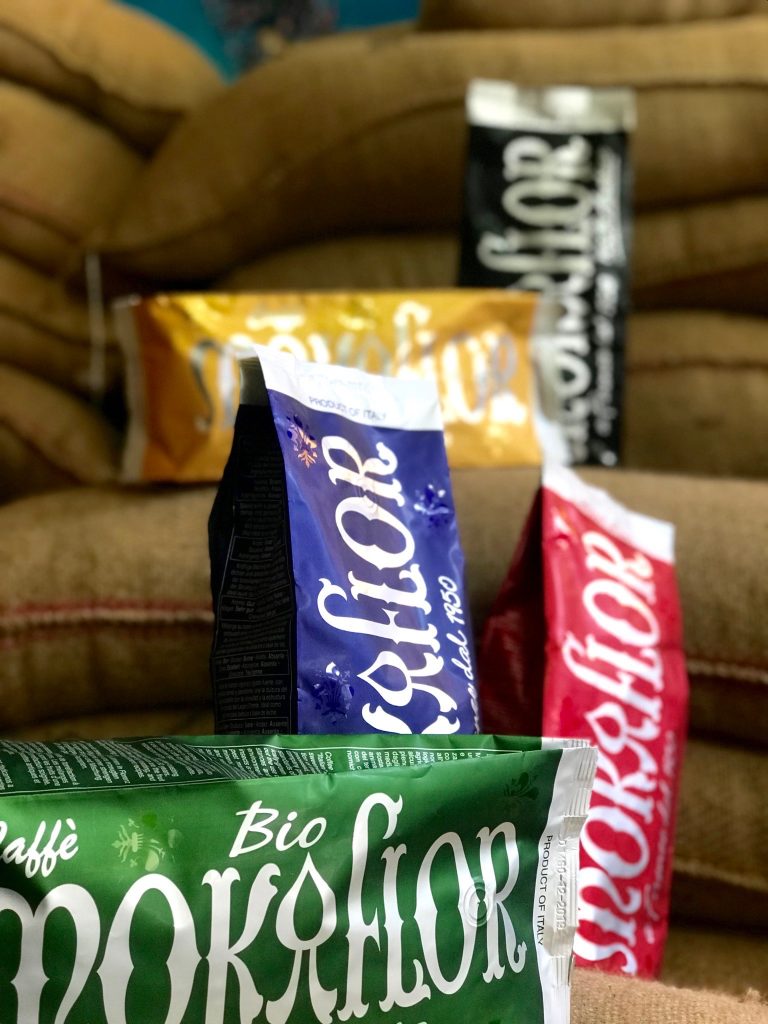 Roasting
The roasting of these coffees is carried out with our discontinuous artisan method from about 20 to 25 minutes. In this way we can guarantee the achievement of the ideal roasting point for each variety of coffee. Then leaving them to rest for at least 48 hours, this assures the release of the gases generated during roasting, but the preservation of aromas.
Taste
For this evaluation the coffee was tasted in 92 ° espresso, with an extraction of 25 ml in 26 seconds. The coffee describes an excellent body and well balanced sensations. The nose reveals notes of biscuit and vanilla and a light cocoa.
This blend is appreciated in many Italian bars, but also abroad where the countries with the highest consumption are: Germany, Austria, Switzerland, Sweden, Poland and Russia.
Also, the Gold blend turned 20 this year, which we celebrated with a restyling of the packaging now available in a matt gold with silver lettering.
Watch the video and immerse yourself in the rainbow Mokaflor!