From Myanmar a fantastic coffee with notes of chocolate, honey and tropical fruits, a pleasant acidity and a round body.
Region: Mandalay
City: Pyin Oo Lwin
Estate: Ngu Shweli Estate
Growing altitude: 1000 mt. s.l.m.
Variety: SL 34
Prozess: Natural
Cupping Score: 86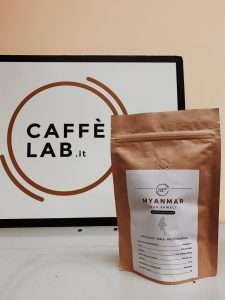 Northern Myanmar has the ideal conditions for the production of Specialty Coffees. The coffee plantations are located at an altitude between 1100 and 1600 meters above sea level with rainfall adequately distributed throughout the year. Through national and international investments, the coffee sector in this republic of Southeast Asia has seen a rapid growth in recent years.
Ngu Shweli Estate, the oldest coffee plantation in the Mandalay region, was founded in 1997 by its owner U Kyaw Sein near the town of Pyin Oo Lwin, famous for its colonial architecture,
Of the 235 hectares, 215 are planted with coffee and the shading of the plants is guaranteed by silver oak and Macadamia trees, the latter providing an additional source of income for the plantation.
U Kyaw Sein has created an internal nursery for the plantation coffee seedlings, 80% of which is made up of the SL34 variety and 20% by the S795.
Only the drupes at the correct level of ripeness, of the SL34 variety, are manually harvested and processed using the natural method directly inside the plantation. Drying takes place in a first phase on plastic sheets and ends in bamboo trays.
This lot received the score of 86 with the SCA cupping protocol.