The process of roasting is a particularly important moment in the life of a coffee bean.
In this article, we explore some images that have been taken through the microscope, and bring us closer to the inside of a bean during the roasting process. This is the moment in which green coffee beans develop all the important aromatic molecules that make up a good cup.

What happens to coffee during roasting?

This photo was found in the very interesting master thesis of Niya Wang, a student at the University of Guelph in Canada. It shows the inside of a coffee bean during roasting which is only visible through the microscope. These pictures start from the raw / green coffee and go to an extra dark roast, 48 seconds after the second crack!
The images confirm that the bean loses weight, increases in size, but decreases in density, when being roasted.
The increase in pressure inside the cells (caused by the formation of gases such as CO2, steam and other substances) causes them to expand (as if inflating a balloon). In the picture you can clearly see that this happens mainly between the first and second crack. The pictures at the end of the crack, on the other hand, are more like those after 48 seconds.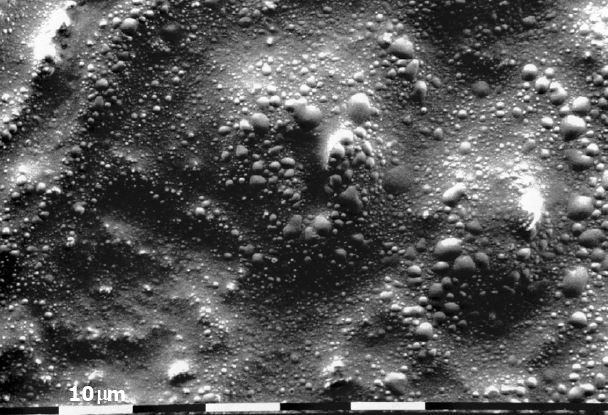 The surface of a bean after 24h roasting
Another interesting picture, also taken through a microscope, shows us oil drops from close up, which migrate over the surface of the coffee bean after 24 hours of roasting. These oils are very important for a good crema. These are also the same oils that remain on the tools of every barista, such as on portafilters. This is why we never get tired of saying that a daily clean of the machines is fundamental!
Source: Simone Celli, ilcaffeespressoitaliano.com