Limited budget for the decoration of your premises? Do you want it to be ECO Friendly? In the following article you will find some ideas for creating a fantastic decor using materials that would normally seem unnecessary! 
Those who work in the restaurant and bar business know that the right ambience will inevitably influence the target customers. The owner creates a certain identity of the place through the furniture. The choice for recycled materials could be taken whether you have a limited budget, choose an ECO friendly philosophy or simply out of pure personal choice!
Let's now see some examples of bars which give us inspiration for the use of recycled materials:
1 – "Vinetaria" in Harlem, New York City
At this point we cannot fail to mention Harlem's "Vinateria" in New York City. The concept of this modern bar-restaurant is that of the typical New York style, with the use of vintage elements, which in this case are blackboard and chalk! This is the result obtained by using "old and dated" objects brought to new life. The result is the impression of something new and different.
In addition, the visitors' attention is drawn to the history of otherwise forgotten objects. A common strategy used in these times! 
"Vinetaria" in Harlem, New York City
2 – "Zaporizzya" in Ukraine
For this area of ​​70 square meters, a truly unique and splendid decor was created. The reused materials that in this case create the particular charm of the room are wooden pallets.
Often they are a 'waste' of the industry, but pallets are nonetheless recyclable in different ways. You just need some creativity in the restructuring! In Zaporizzya, wooden pallets have been transformed into a piece of furniture and are used not only for decoration but also for seating or as shelving.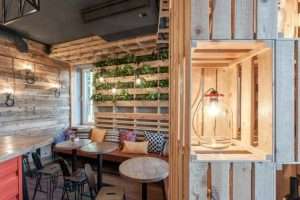 Zaporizzya in Ukraine
3 – Nhero Caffè in Baronissi of Salerno
Also in Italy the concept of recycling and Eco Friendly is turning into a trend. In fact, we present you the first Italian bar with completely furnished and recycled material! The dominant element here is wood, characteristic of wine barrels, which are used as tables and stools. In this 'Eco friendly' bar we can also find bulbs mounted on wooden beams that give a fantastic light and illuminate the room (and which are a real masterpiece!)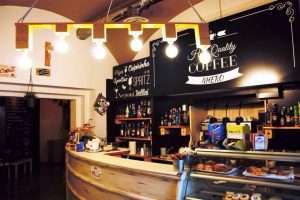 Nhero Caffè in Baronissi di Salerno
4 – 'The witch' of Fidenza
A creative project awaits the customer in the 'The witch' bar in Fidenza. Thanks to an ecological philosophy, a restyling of the room was possible without changing the architectural structure. Here too, the central element is the wooden pallet in all its variants, which replaces furnishing accessories such as tables and shelves. The created environment is therefore warm, innovative and natural – at no cost!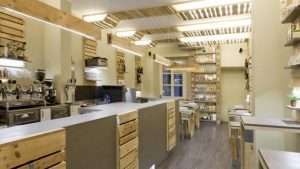 Bar La strega in Fidenza
5 – 'Eco friendly' in Washington D.C.
Tires on the walls and decorative spades … this is how an old peasant house turns into a traditional and creative restaurant. The result is in fact that of a rustic, but nonetheless sustainable environment. Farmers Fishers Bakers is thus a mix of simple materials which have been restyled and give a special touch to the place. The concept of eco-sustainability was also achieved through: motion sensors that measure current and water consumption, LEED Gold certification and VOC-free furnishings and upholstery treated only with non-toxic paints.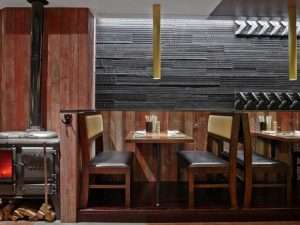 Eco friendly a Washington D.C.
6 – Bar Bite & Go, Kiev
The "industrial" elements are the distinctive character of the Bar Bite & Go., in the heart of Kiev. The industrial flair is ​​presented in all forms, so here too the focus is brought on the concept of recycling. Thus there are deliberately exposed bricks, arched windows and metal columns. Factory waste is transformed into curved tables and lamps from the 1890s embellished with old ice baskets. To underline its use, the panels used have been worked with petroleum wax, an element that increases the industrial character of the room.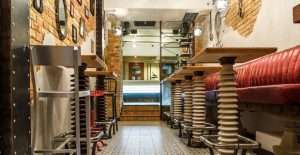 Bar Bite & Go, Kiew 
7 – Shabby Chic
Last but not least, the increasingly requested and sought after style: Shabby Chic. In fact, we are talking about an antique effect created through the use of old furniture, dried flowers, country decorations and suggestive colors. These are used to give a creative touch to the traditional English style. In this case the pastel colors and the raw wood give an excellent romantic and elegant result. Lighting: A soft light contributes to a more intimate environment, the stronger light instead gives a little more vividness to the room.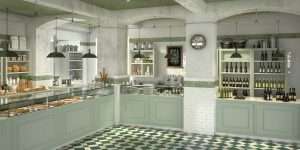 Shabby Chic
These were our ideas for how to use and recycle different materials to create extraordinary furniture for your bar or restaurant. We'd like to underline our general and most important suggestion: there are no limits for creativity and imagination!
Have fun!