The Mokaflor rainbow is made of the classic espresso blends of the Italian tradition.
Each of our blends has its own character and identity. Don't know which one to choose? Here are some nice and short videos that will help you find the coffee that best suits your taste and your needs!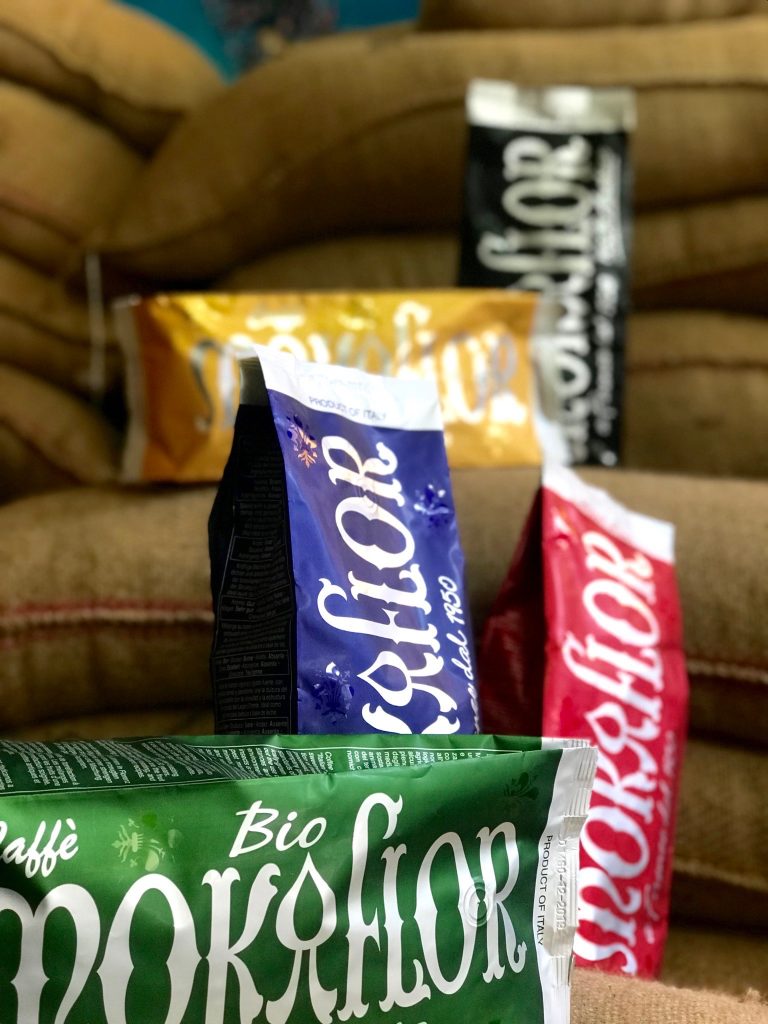 The organic 60/40 GREEN blend
This entirely organic 60% arabica 40% robusta espresso blend has a strong and vigorous character. This blend combines the body of the Brazilian Arabica, the sweetness of the Central American Arabica, with the creaminess of the Indian Robusta. All the coffees that make up this blend are certified organic / bio.
Origins
The four coffee origins which make up this blend are:
– Brazil Santos
– Colombia Excelso
– Mexico Altura
– India Cherry
To choose these coffees and their combination in the blend, we have carried out a long research to determine the perfect balance of their aromatic characteristics in the cup. Find out more about this coffee, here!
Roasting
The roasting of these coffees is done with our discontinuous artisanal method that takes from 20 to 25 minutes. In this way we can guarantee the achievement of the ideal roasting profile for each variety of coffee. They are then left to rest for at least 48 hours: this enhances the releasing of gases generated during roasting and at the same time the maintenance of the aromas.
Taste
For this evaluation the coffee was tasted with an espresso extraction of 25 ml at 91°C in 23 seconds. The crema in the cup is of a dark brown and dark hazelnut color. The aroma reveals notes of wood and cocoa. This coffee greatly enhances body and bitterness, contrasted by a pleasant sweetness. Perfect for extraction in espresso and for latte macchiato.
Watch this video and immerse yourself in the Mokaflor rainbow!