WE ARE VERY PROUD TO ANNOUNCE THE ARRIVAL OF OUR NEW 250 GRAM PACKAGING OF THE MOKAFLOR LINE.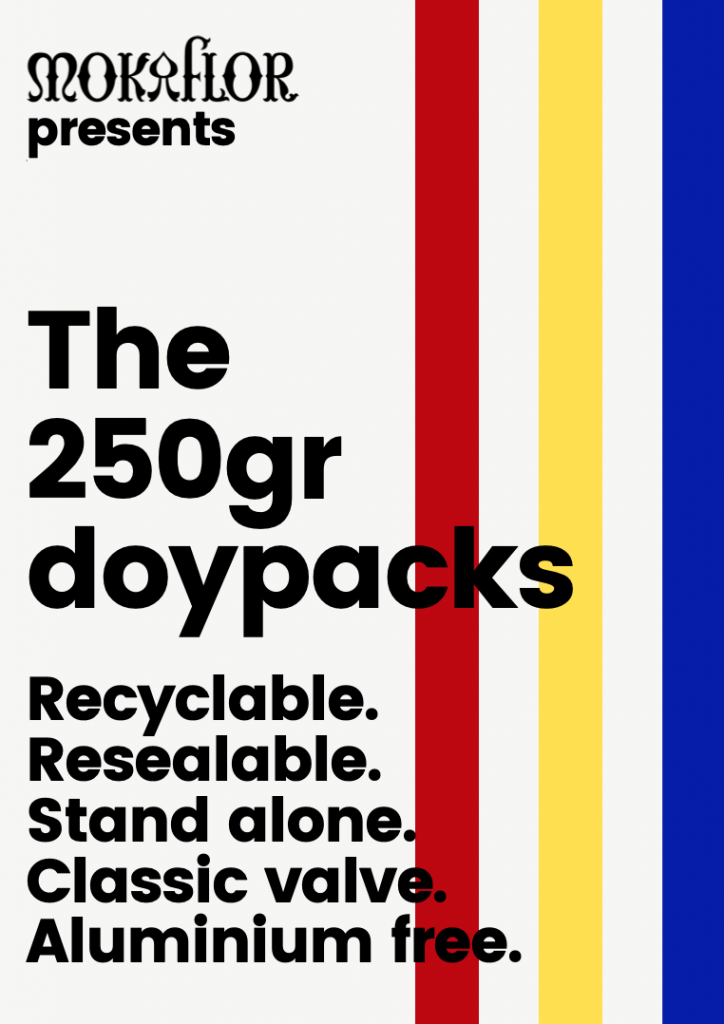 After many months of research and tests, we have finally found the right packaging for our 250 gram retail packaging. These stand alone doypacks with valve are fully recyclable, aluminum free and resealable.
COFFEE PACKAGING
In the world of coffee as in many of the food sectors, packaging is always a topic. Especially with the pandemic, the acquisition of packaging materials has become very challenging and the shipping times are often very long.
When looking for the right packaging materials, up until now, it has also always been a challenge to find the right compromise between maintaining the aroma and coffee fresh and a low-impact, sustainable packaging.
The classic coffee bags are usually made of PE (Polyethylene) PP (Polypropylene) and Aluminum (AL) . All these materials are known for their light and air barrier, all properties which help in maintaining the coffee as fresh as possible.
OUR FULLY RECYCLABLE PACKAGING
The main issue is that, when combined all together, these materials are quite difficult to recycle. Also the aroma valve often plays as the obstacle in recycling matters. We therefore opted for a mainly Polyethylene packaging which is fully recyclable.
WHY NOT BEFORE?
Well, there is a continuous improvement in the research and development of packaging. Up until now, a big issue with mono-material packaging was that it often does not guarantee a light barrier and aroma freshness which is, of course, the most important factor when packaging coffee, especially when it has to be sent to far countries around the world.
We are therefore very happy about the development in packaging technology by our partners and glad to present you this amazing new stand-up, doypack pouch.
RESEALABLE BAG
Another very important and fundamental element that brought to our new development, was the necessity to find a packaging that is resealable. In fact, the customers that buy 250 gram packaging are usually home consumers and therefore need a packaging that maintains the aroma for a longer period of time.
With our new Mokaflor 250 gram doypacks, you can now open and close your bag without losing the freshness of your coffee!